I will be participating in my hometown for The Spring Green Arts & Crafts Fair again this year.
http://www.springgreenartfair.com/
——————————————————————————————————————————————
I will also be participating in the Driftless Area Art Festival on September 21-22, 2019 Soldiers Grove, WI.
Discover the Area.  Discover the Artists.
Join us for the Annual Driftless Area Art Festival and experience the beauty and artistry of the Driftless Area.
No matter what direction you are coming from, you'll enjoy a scenic, meandering journey through wooded hills and deep valleys.
The Driftless Area, a unique region that escaped the glaciers of the Ice Age, is an inspirational setting to all manner of talented artists. Its hills and valleys are home to painters and potters, woodworkers and weavers, metal smiths and musicians, vintners and brewmasters.
To see, hear and taste the exceptional variety of their creations, you usually have to visit studios and stores, cafes and concerts. But once a year, on the third weekend in September, these artists gather together in Crawford County, Wisconsin, at the Driftless Area Art Festival.
Enjoy a drive with exceptional scenery. Spend a few hours strolling through the exhibits. Taste some local fare and sip some local wines. Listen to some great music. Take home some fine art and fine memories.
——————————————————————————————————————————————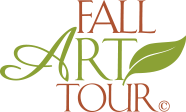 OCTOBER 18-20, 2019 – DAILY 10am – 6pm
The third full weekend each October, some of Wisconsin's best-known artisans open their studios, allowing visitors a unique, behind-the-scenes view into how their work is created. Known as the Fall Art Tour, each year it draws visitors from all over the country to artists' studios tucked away in the scenic hills in and around Wisconsin's art communities of Mineral Point, Spring Green, Dodgeville, and Baraboo.
During the three-day tour, artists will be in their studios, demonstrating and selling their work. These artisans include painters, sculptors, potters, weavers, jewelers, woodworkers, mixed-media artists, and more. Many of these studios are open only for this event, providing a unique opportunity to meet the artists and purchase their work. Join us on a drive through the autumn countryside during this once-a-year event that includes a rare glimpse into the restored breweries, one-room schoolhouses, and historic storefronts where some of Wisconsin's best-known artists work.